and this is how it all began.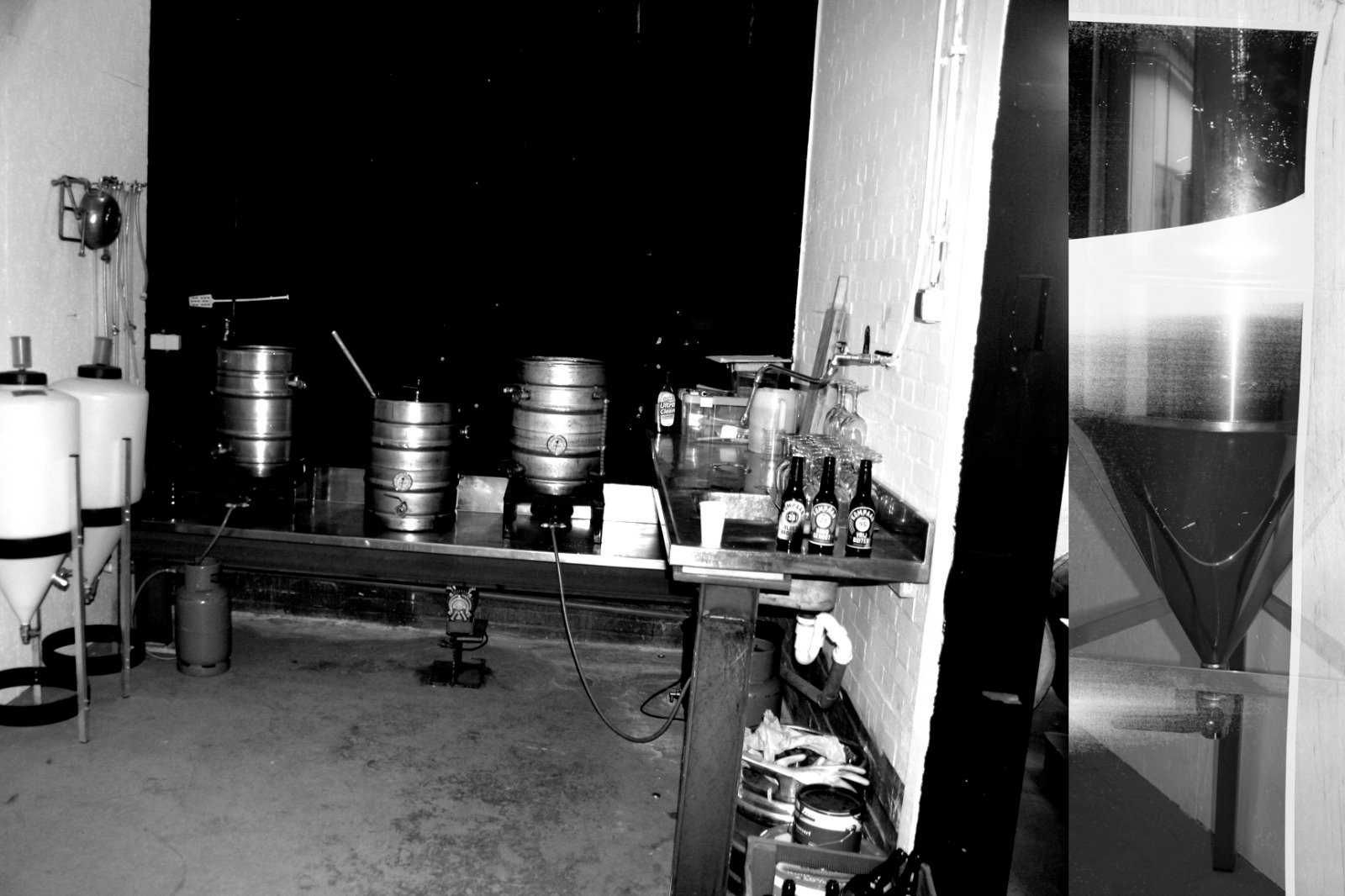 2010 & 2011 – THE BEGINNING: kitchen brews
Kompaan had humble beginnings, with just a few recipes and a whole lot of gusto. The brewery was founded by Jeroen and Jasper, two school friends that have known each other longer than not. They shared a zest for life and were ready to put The Hague on the craft beer map. The brewery name is based on this friendship, two companions drinking together. As a modern, young brewery making contemporary, exciting beers, the name is spelt in modern Dutch, as "kompaan", and not "compaen".
Beginning in 2010, Jeroen and Jasper began to brew alone and it took them two years before their first beer, now called the Bondgenoot, was born.
2012 – THE FIRST BREWS ENTER THE MARKET
In 2012 Kompaan started producing 10hl brews. Kompaan introduced their first brew to the market a refreshing dry-hopped blond with a low ABV, the Kompaan 20, refering to the number of the recipe. These days it's known as the Bondgenoot, in 2012 this type of beer was something new on the market, and the beer was quickly sold out. Following this, they brewed the 070 Kameraad and the Kompaan 45 Vrijbuiter, creating the first beers of the core range.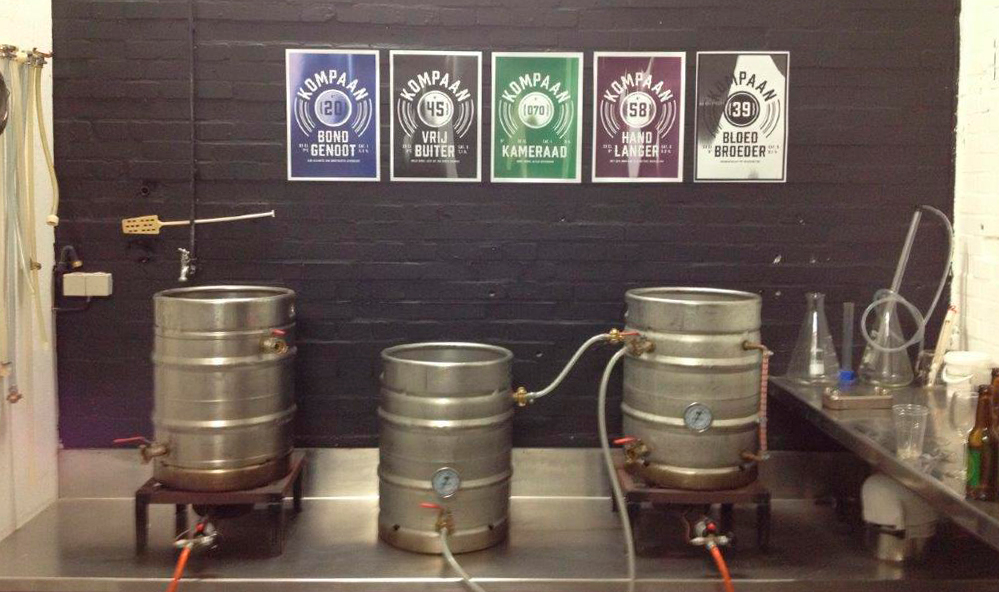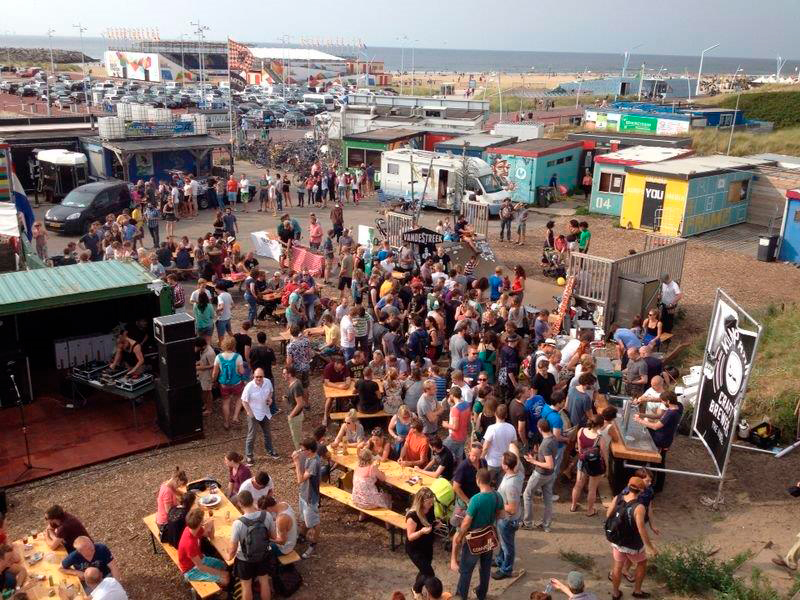 2013 – ready for more… scale up and kompaan festival
By 2013, as the brewery continued to grow, Jasper was able to quit his day job and go full-time with Kompaan. During this time, we finalised and rolled out our core-range, with the inclusion of Kompaan 58 Handlanger and Kompaan 39 Bloedbroeder. To celebrate, we hosted our first festival, the Kompaan 'bierFASTival', which took place on the grounds of F.A.S.T Surfdorp.
2014 – Transformation: moving to the binckhorst
Kompaan finally moved to the Binckhorst area in 2014, an industrial area in The Hague that has come to represent Kompaan's rugged aesthetic. After renovation, the microbrewery and storage first opened in the Atelier complex de Besturing. Thanks to various collaborations with the partners at de Besturing, the growth of Kompaan was able to continue. By now, Jeroen was also able to start working at Kompaan full-time, and two more successful festivals were organized: at F.A.S.T Surfdorp and within de Besturing. Meanwhile, the core-range was expanded with the introduction of seasonal beers, collaborations and one-offs.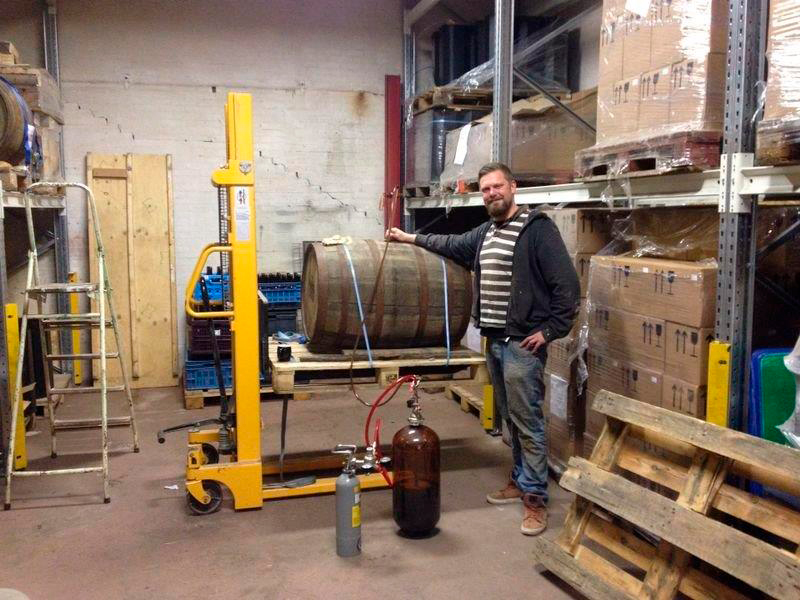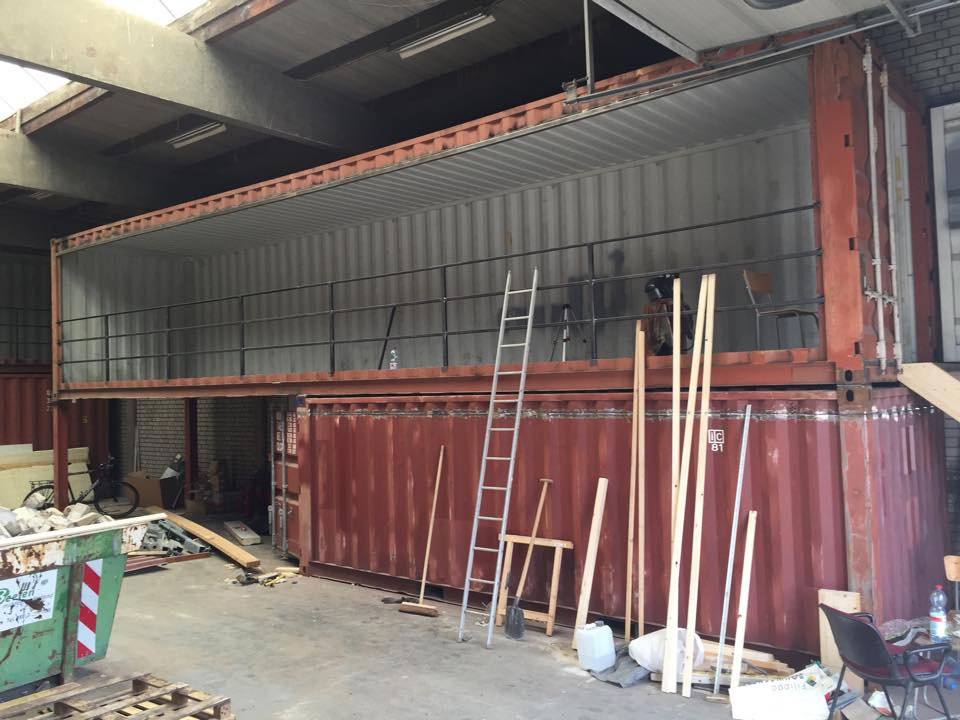 2015 – the scale up: MOVING TO A NEW LOCATION AND A SUCCESFULL CROWDFUNDING CAMPAIGN
But it wasn't until 2015 that Kompaan moved into its current home on Saturnusstraat. The larger building enabled us to enter into a new period for the brewery, with 950 m2 of commercial space and a 165 m2 terrace on the water. Thanks to a hugely successful crowdfunding campaign, €150,000 was raised to install the craft beer bar next to the brewery, with the stunning terrace and views which so many now enjoy. On August 20th 2015, Kompaan officially threw open its doors and employed its first three full-time staff members. With our new space up running, Kompaan continued to grow.
2016
next level: building the brewery
Kompaan brews around 13 new beers a year. To accommodate this, we started on the design and construction of a bigger brewery installation in 2016. The puzzle was completed by the end of November, with a 4 kettle 30 HL brewhouse including fermentation tanks and a bottling line! With a potential annual volume of 8000 HL and 10 enthusiastic employees, we were able to continue working on our dream. We also introduced two more beer festivals inspired by the Kompaan core-range: the Bondgenoot Festival in June, and the Bloedbroeder Craft Beer Gathering in October. Finally, in secrecy, we worked on a new beer line that was to see the light of day in 2017…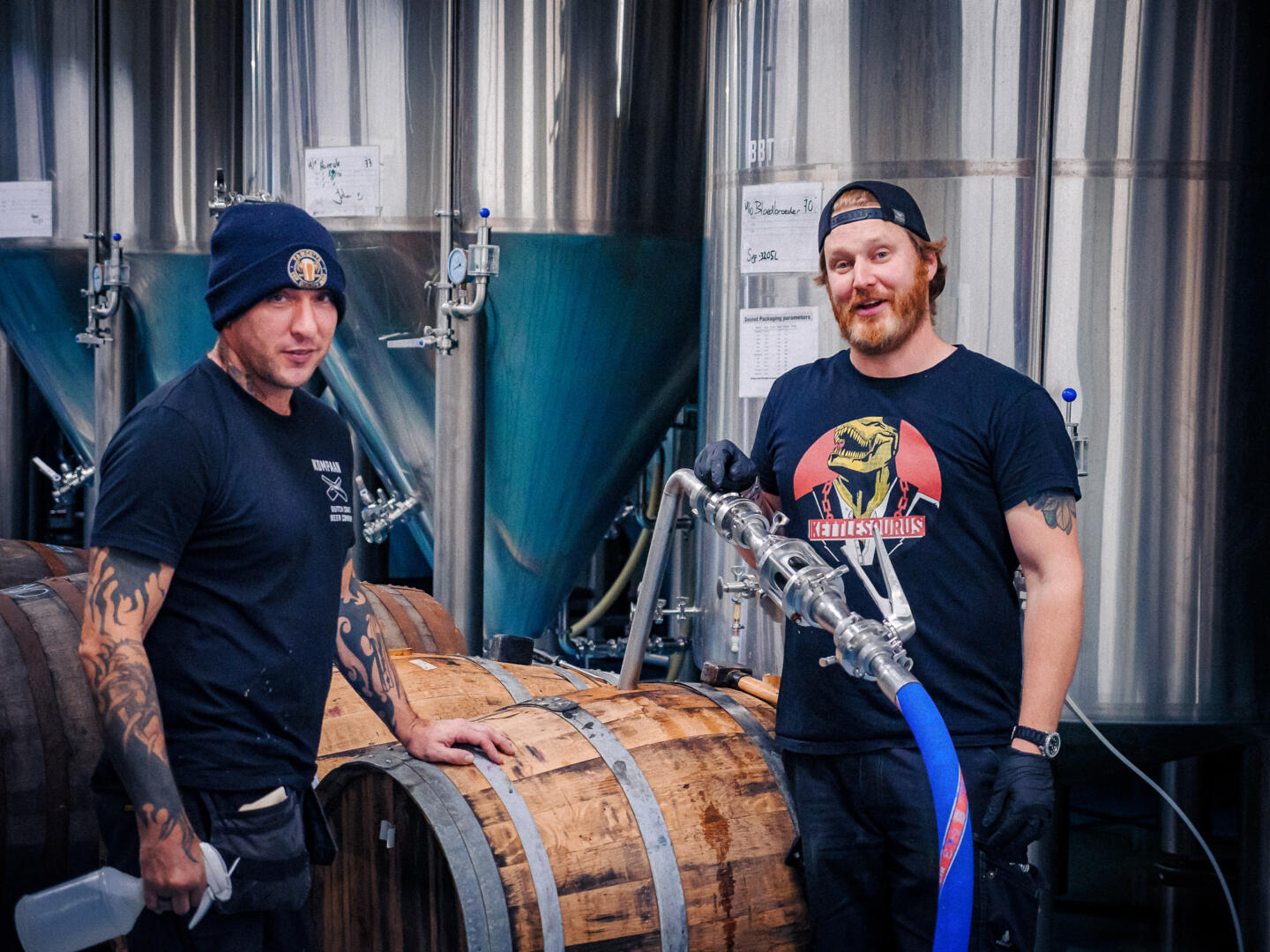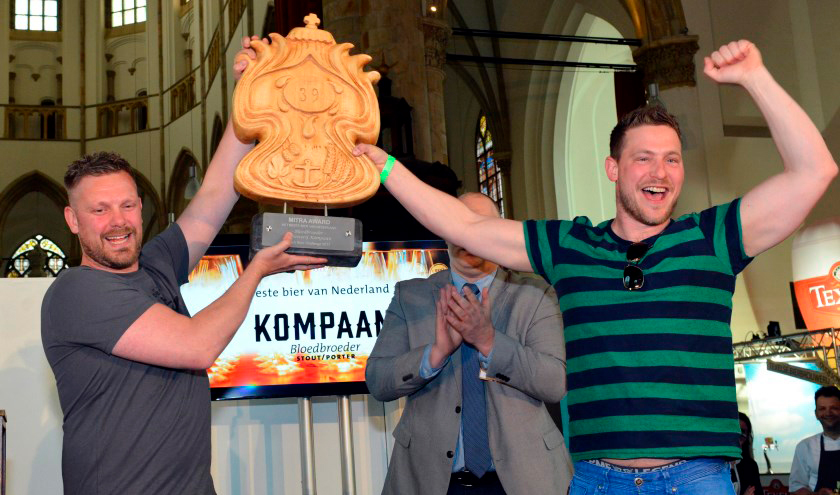 2017
hops & glory: KOMPAAN WINS TITLE 'BEST BEER OF THE NETHERLANDS'
That beer line was the "Foreign Legion", a limited series of beers, with titles like Johnny Dogface and Joey Greenhorn. A couple of beers in this series picked up Bronze awards in the Dutch Beer challenge for the 'Amber/IPA' and 'Saison' categories. However, In 2017 came a big win with the imperial stout Bloedbroeder, grabbing a gold medal and Best Dutch beer title in the Dutch Beer Challenge. In addition, it also won gold in the Russian Imperial Stout category at the Barcelona Beer Challenge. And in end, the Bloedbroeder made Kompaan a household name.
2018 
Going abroad: international awards
2018 was a year of transition, in this year we worked hard to bring the professionalism of the brewery to the next level. The result is two international prizes. Bloedbroeder Imperial Stout won a certificate of excellence during the Brussels beer challenge, and the Badgast won a silver medal at the Barcelona Beer Challenge.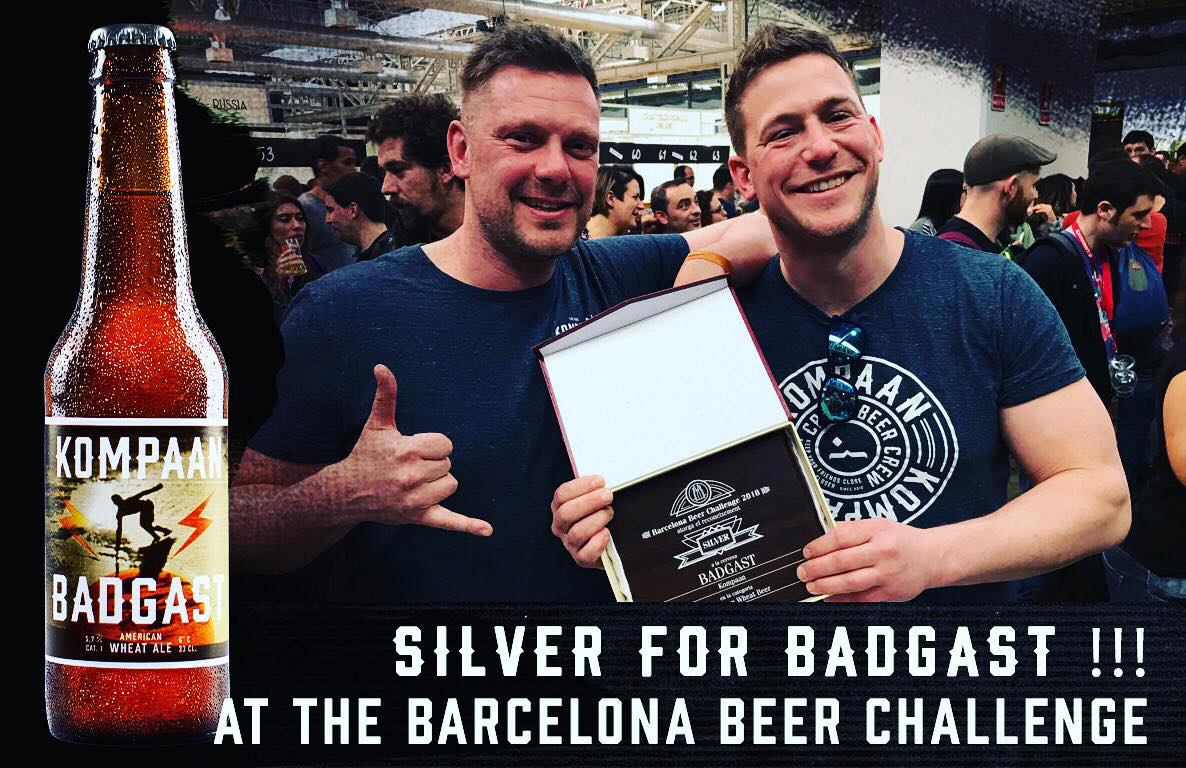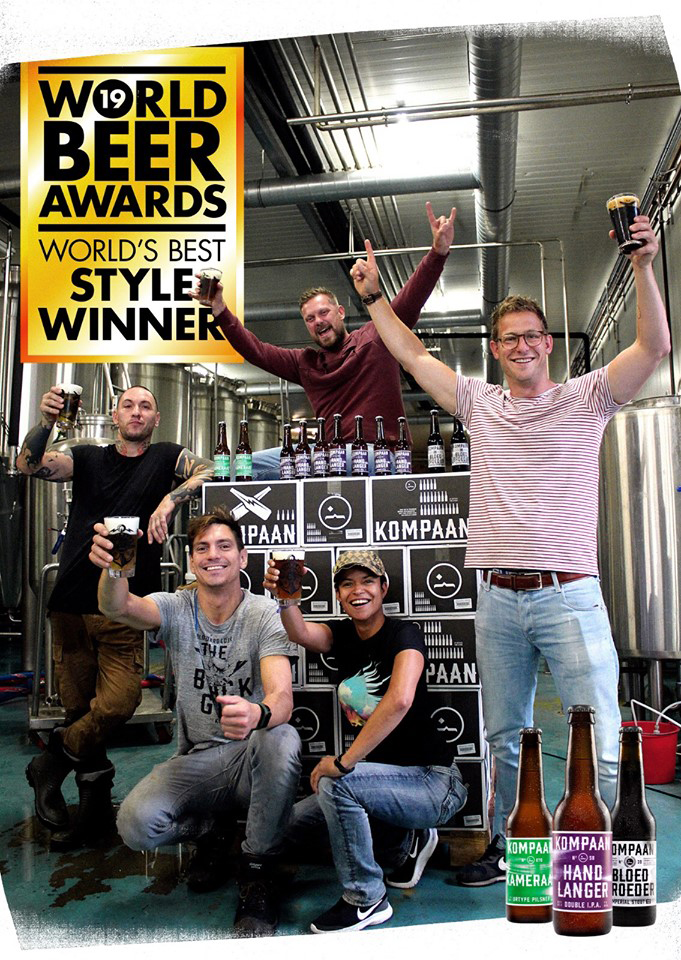 2019
more hops & glory: handlangers worlds best ipa
In 2019 we continued to optimize our quality. A laboratory has been built and a quality manager has been assigned. In 2019 various prizes were again won, 2 gold medals at the Meininger Craft Beer Awards for Joey Greenhorn IPA and the Bloedbroeder Imperial Stout. Last but not least 3 prizes were won during the World Beer Awards. Countries Best for Bloedbroeder and Kameraad Lager, and our Handlanger has been voted the world's best Double IPA !!
We continue to discover and release many new beers. On to the future.
2020
shit hits the whirlpool
2020 started off as bright as it could be. All of our teams were ready to top themselves. The brewery had been working so hard it practically fell apart, but after a thorough maintenance round we were up and running again. We had lots of new releases, a completely new beer line and a very optimistic view of where we were headed as a brand. On one side our pockets were practically empty, but on the other side over 3000 kegs of beer were ready for the first rays of the spring sunshine.
And then disaster struck…
On March 15th the whole of The Netherlands went into a lockdown due to Covid-19. This lockdown hit the hospitality sector disproportionally hard, and Kompaan doubly so. KOMPAAN not only supplies this sector with our brewery, but we are also part of it with our Craft Beer Bar. We had no more guests coming through the doors and 3000 freshly filled kegs that had suddenly become unsellable. This cost us 80% of our turnover, and our optimistic worldview turned very, very bleak.
But as it turns out with most good crises, you don't want 'em to go to waste. And from disaster a lot of beautiful things were born. An unprecedented spirit arose within the Kompaan team and we turned to our own creativity, hard work ethos and survivor mentality to overcome a lot of hardship. "This can't be the end of Kompaan" became our mantra, quickly followed by "let's get to work!". This resulted in Drive-throughs, livestream tastings, lots of little initiatives and a complete Saviour Campaign. We were overwhelmed by the support of our fanbase and, together with all of our supporters, we fought our way out of the crisis.
This made Kompaan – as a company, AND a community – stronger than ever before. In June we cautiously opened up our Craft Beer Bar again and were able to enjoy a couple of months of sunshine, beer and lust for life. Until another, much harder lockdown followed in October… Another lockdown, another challenge, wouldn't you say? Little did we know this second one lasted even longer and well into 2021…
But hey, you're still reading this on our website which means we where still here.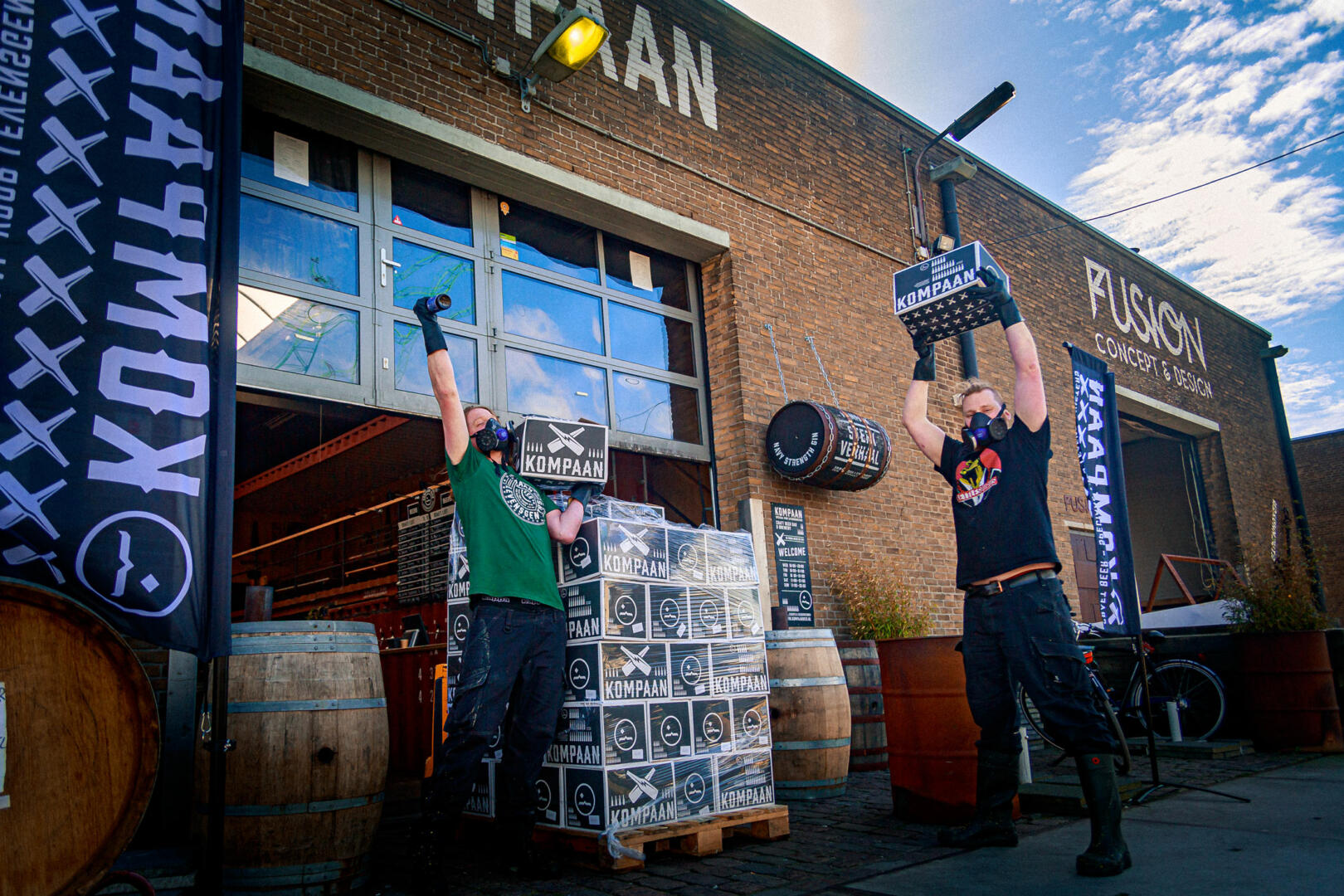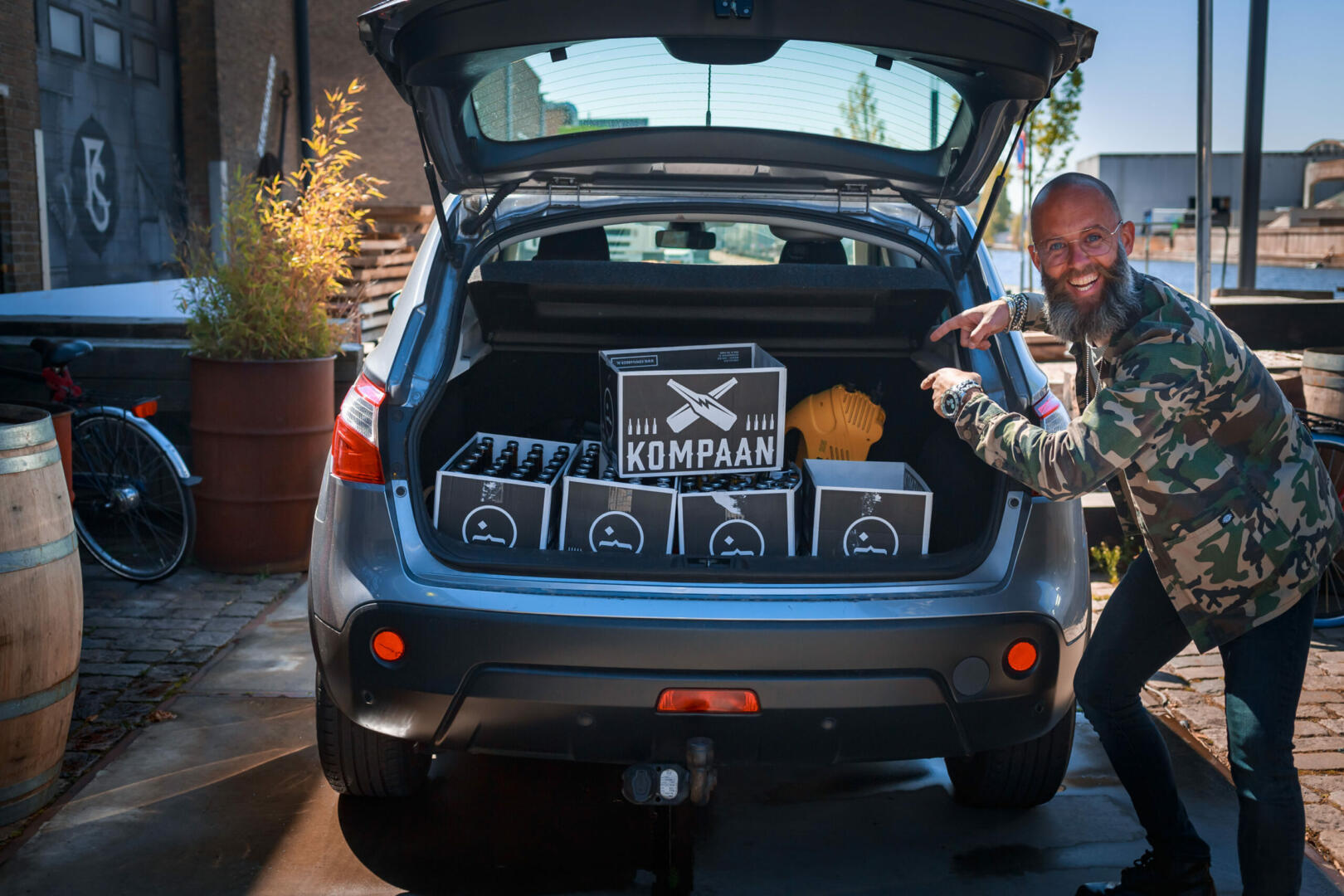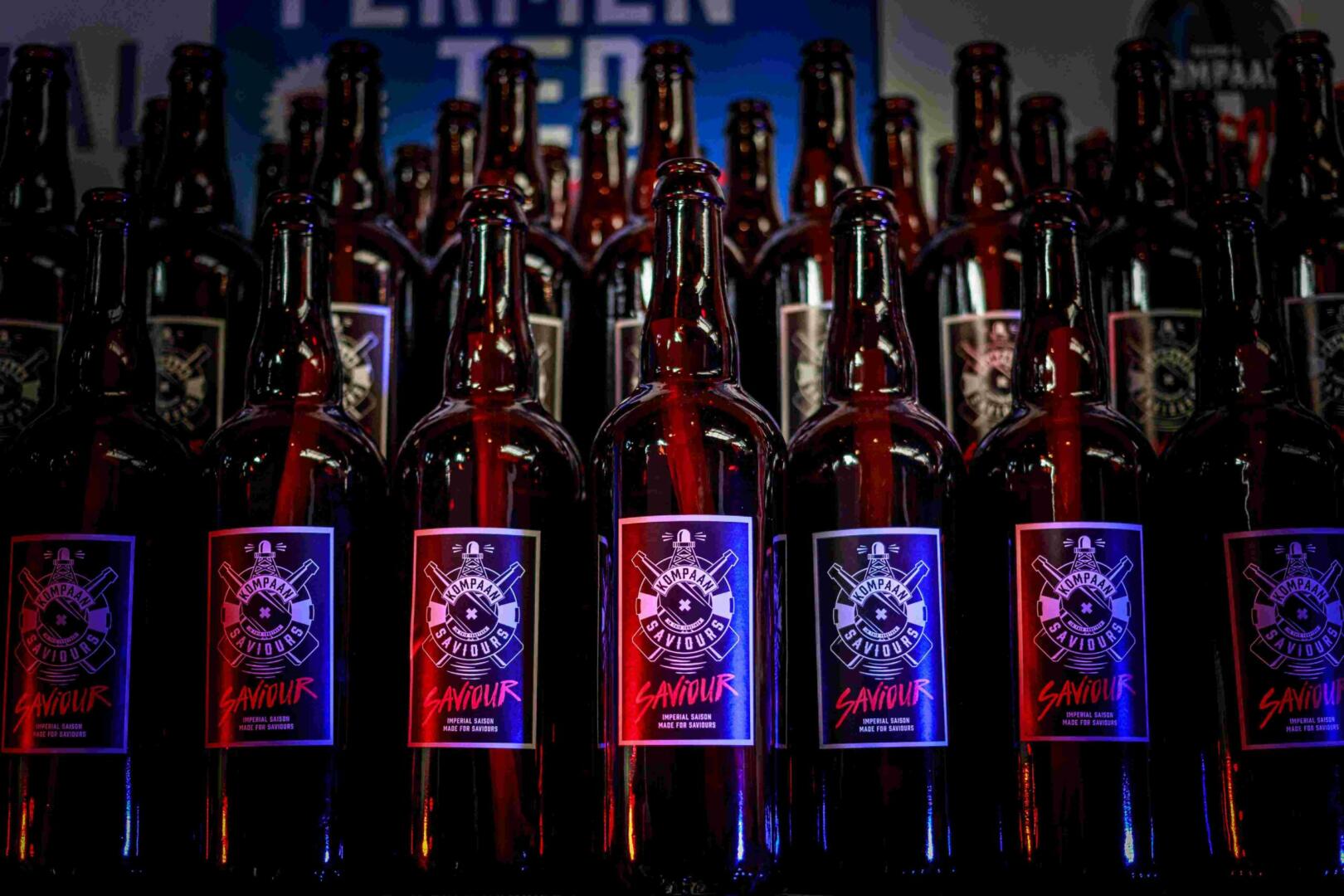 2021
Ah yes.. another lockdown..
The year 2021 commenced with a dramatic start as yet another lockdown was imposed. Fortunately, it was lifted relatively quickly, granting the people of the Netherlands a sense of liberation from March onwards. Our brewery experienced a surge in demand, with beer flowing abundantly. Embracing the evolving trends, we made a strategic shift by installing a canning line instead of filling bottles, firmly believing in the superiority of cans. Sadly, towards the year's end, the resurgence of the coronavirus dealt a blow, forcing us back into the days of relying on liquor stores and livestreams to reach our customers.
2022
opening a new craft-beer bar
The year 2022 began with a lockdown once again, but this time it dissipated even faster than in the previous year. The whole of the Netherlands rejoiced as people returned to the terraces, and we experienced a record-breaking upturn in revenue. Adding to our achievements, we proudly launched our Craft Beer Bar in the city center, symbolizing the collective hard work and dedication of our team at Kompaan. Our commitment to excellence was duly acknowledged when we emerged victorious in multiple categories of the renowned Dutch Beer Challenge. However, the War in Ukraine posed new challenges, causing commodity prices to skyrocket by up to 50% and energy prices to surge elevenfold. Nonetheless, we faced this crisis head-on, drawing strength from our resilience forged during the preceding corona crisis, and emerged triumphant.